The one question on your employees minds this time of year is: What will the company be doing for this year's holiday party? That's right! It's already time to plan entertainment for your corporate holiday party.
Your holiday event offers loyal, hard-working employees an extra reason to be excited about working for you! And our staff at Innovative Entertainment love holiday parties! In fact, its our favorite (and busiest) time of the year.
Here is a list of some ideas for the upcoming Halloween/Christmas event to reward your employees for all their hard work. These ideas are only starting points for the types of creative events that your employees look forward to year after year.
Winter is Coming: A Game of Thrones Themed Holiday Party. Unless you have been hiding under a rock for the past few years, Games of Thrones is one of the hottest shows on TV. It has a score of 95% on Rotten Tomatoes, and since new episodes come out on Sunday there's probably talk about it on Monday. So set up your party like the show IRL. Set in the mythical land of Westeros have employees pick a family table, play party games and raffle of GoT prizes. Serve meals inspired by the GoT Cookbook . Rest assured, your employees will be begging you to "Hold the Door" for their plus one.
Midnight Breakfast, A Doo-Run-Run. Midnight Breakfast is a college term that means breakfast is served at midnight. Lucky for you, and those fortunate enough to be ham hocks, this breakfast is served with a side of Karaoke. While your employees eat their Omlette-Bar-Omlettes and crispy bacon they can watch their co-workers belt out the best that Live Band Karaoke has to offer. Bloody Mary, anyone?
Right from the Rassadocks: A Clockwork Orange Party. Let's get things nice and sparkling and clear: this party is for the droogiest of workplaces. Or just a group who is looking for something totally different! If you have a smaller office and y'all believe in it, the decor would be the most fun to create. If your engineers have been looking for an opportunity to create some great props then this is the party to do it. This is a unique idea so check out our post on some unique Napa Winery Venues.
Moonlight Splendor: A Prom Theme. All of your employees still have their dresses. You know the kind, the sequined strapless floor-length gown that brought all the boys to the yard. Give your employees the photo opportunity to put on their best prom outfit. The decorations are fairly cheap, a few streamers, some great table cloths, and an arbor with a backdrop and you're in business. Hire a photographer to document the night and give your employees a night to remember. Book some talent with us here at Innovative Entertainment and make it a Prom to Remember. We've got the perfect band for you!
Who You Callin' Ugly, Ugly Sweater Contest. A favorite amongst 18-39 year olds, the ugly sweater contest is a hands-down winner. Encourage your employees to bring a blank green sweater and have them jazz it up themselves, or form teams and bedazzle your partner's sweater. The tinsel, and holly will make your employees jolly. This is always a fun event. And it gives your employees a workplace heirloom to wear next year.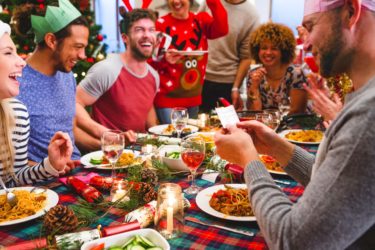 However you dish it, the holiday party is the event that everyone can't wait to have fun at. So make it fun!
If you're looking to book entertainment I.E. specializes in procuring entertainment for your corporate event. Have an idea for a holiday party and want some entertainment to go along with it? Contact us here for a proposal. We can help turn a good idea into a great one that your employees will be talking about the whole year. Head on over to our portfolio to see a few past holiday parties we have created with clients.  There are some fun themes in there, too!
Great luck to you and Happy (early) Holidays.