What are some of the first things that come to mind when you hear the word: California? Perhaps it's the palm tree land that's full of beautiful warm weather; or maybe it's the perfect beaches that first come to mind, which offer some of the most incredible waves in the entire country. However, while these characteristics make California a dream destination alone, it is the vast array of wineries and vineyards that should truly bring a California vacation to the top of your bucket list.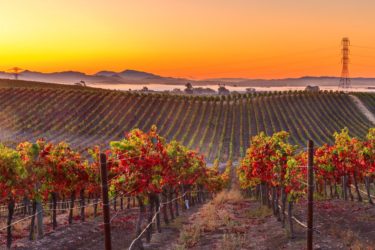 No matter where you decide to stay within this beautiful state, elegant and welcoming wineries await all over, making travel stress free and relaxing. Thinking about a trip to Santa Barbara? This county offers dozens of highly acclaimed stops for wine lovers, such as Casa Dumetz, which has a focus on providing some of the most organic and authentic wines in the country. Their motto, "Ground. Grapes. Grit," demonstrates their love and determination for creating the most natural wines, all of which can be tasted and bought right on sight.
Perhaps you're looking for something that allows you to experience the culture of Santa Barbara? The Urban Wine Trail downtown in the perfect place to do so. This self-guided tour offers more than twenty different stops, all of which include their own specialty wines and décor. Not to mention, what's better than taking a evening stroll in the warm California air in between tastings?
Maybe a trip to Sonoma is more along of the lines of what you're thinking, and if so, this warm and friendly county offers just as many wonderful choices of wineries. If you're in the mood for something truly elegant, Ledson Winery & Vineyards is one of the best available options. This family owed winery has been in the business for more than 150 years, which brings a fascinating place of history, along with their delicious wines. While visiting, take a stroll through a grand marketplace, have a picnic under one of the majestic ancient oak trees, and of course, sip your authentic wine while sightseeing in the famous Ledson Castle, located right on the property. 
While dozens of counties offer incredible winery experiences, there's just no place quite like Napa Valley to try some of the state's best wines. Featuring more than 400 different wineries, all with their own unique style, this location is one of the best vacation spots for any wine lover. One of the most visited vineyards in Napa is Beringer Vineyards, which has become a benchmark for Napa Valley. The oldest working winery in California brings a delectable array of wines to choose from, as well as memorable views that continue to wow guests even on return visits. While visiting Beringer, be sure to take the full tour around the property, which allows for a trip through the sensory gardens, and a seated tasting in the historic and beautifully crafted Rhine House. Beringer is also a remarkable wedding venue, featuring 19th Century architecture, and an exclusivity to the Hudson House grounds and main floor that your guests will be talking about for years after the big day. These qualities, plus the live music and picnic events that occur weekly, make Beringer one of the best choices in the state.
Be sure to check back to our blog frequently for all of our favorite recommendations for the beautiful state of California.