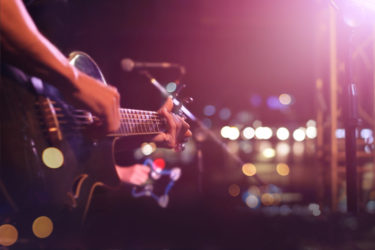 Who doesn't love listening to music at a party? Whether your entertainment provided is by a DJ, a band or even if you're simply playing music from your iPod, it's important to understand copyright laws and performance rights. At Innovative Entertainment we help connect top performers with our clients, bridging the gap between your audience and the stars. But before you run off and pay licensing fees to Performance Rights Organizations (PROs) like ASCAP, BMI or SESAC, some exclusions may apply to your gathering.
Is Your Event Public or Private?
If you're holding a private event, it may not require you to obtain a license. Tread carefully though, like most laws there are exceptions to this rule! According to the books, a private event is a small gathering of family and close friends. So if the songs are for an intimate group of loved ones, it may be acceptable to sidestep the red tape. Some public venues are also exempt from acquiring licensure. For example: melodies used for education, in a place of worship, or in an establishment that utilizes broadcasted media, (so long as said business meets speaker sizes and regulations).
Performance Right Organizations
Performance Right Organizations (PROs) collect performance royalties for music played in a public venue. ASCAP, BMI and SESAC are licensing agencies, PROs, that offer blanket licenses to legally use music in businesses. Specifically, ASCAP stands for the American Society of Composers, Authors and Publishers; BMI, Broadcast Music, Inc; SESAC originally stood for Society of European Stage Authors and Composers, however in the 1940s the organization ceased using its full name and is now known exclusively as SESAC.
When You DO Have to Pay…
Most websites focus on exemptions for licensure and if you're lucky, they may even touch upon the Fairness in Music Licensing Act. This law is ambiguous at best and interpreted in several fashions dependent upon case review. To summarize: anytime songs are played over the radio, broadcasted by loudspeakers or streamed through the internet, chances are you're required to pay a fee to use this music. Many people forget that when listening to tunes on their iPods or streaming through a commercial service such as Pandora or Spotify it's a privilege, and one only licensed for their ears. When one expands upon that privilege to include more than close family or friends, your private event becomes public. Commercial streaming services and electronic devices do not cover licensing fees for public exposures, so you will have to pay to use this music.
"If I buy a license from ASCAP, why do I need to buy one from BMI or SESAC?"
Some songs have multiple writers, with each sometimes represented by multiple agencies. The PROs represent more than just a song, but also its writers and composers. If you plan to play music at an event such as a wedding, social event, corporate event or fundraiser, more than likely you will incur fees from each respective agency. But do not worry, these fees are relatively inexpensive.
Building Bridges…
Remember, obtaining licensure protects business owners and artists alike. Songwriters and composers are business owners, and agencies like ASCAP, BMI, or SESAC help link these creators with their market.  When in doubt, it's never a bad idea to ask questions. Innovative Entertainment is here to provide resources and assist in securing the atmosphere to help bring your event to life!