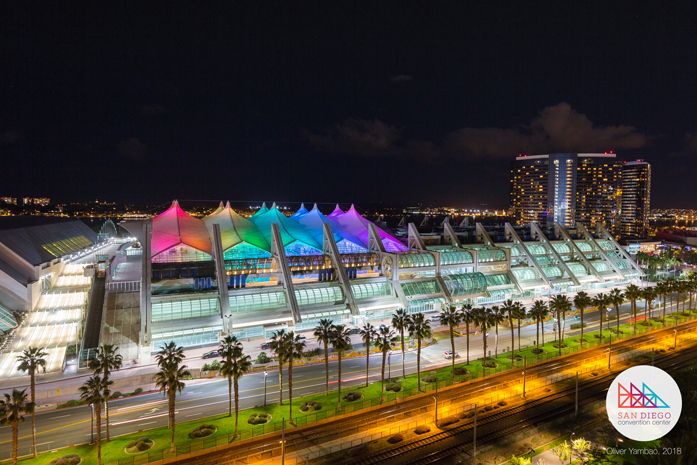 The San Diego Convention Center is one of our favorite convention centers to bring entertainment to – known as a venue with "the perfect balance of beauty and business." The Convention Center has the appealing design of sails on top to represent San Diego's coastal history. Another unique feature is the inclined elevator on the outside of the building. The panoramic views from this venue are ones that should not be missed and make for the best backdrops to meetings and events.
Located in the heart of downtown, with restaurants and shopping within walking distance, four main hotels within a mile and a half, and only ten minutes from the airport. All of these accommodations make the San Diego Convention Center a prime location for hosting conferences, meetings and special events! The Center opened in 1989 and expanded in 2001 – and is now 2.6 million square feet. It is the 24th largest Convention Center in the U.S and without a doubt can be customized to fit any event need. The square footage is broken up into exhibit halls, ballrooms, meeting rooms, lobbies, the Sails Pavilion, and an outdoor terrace
Known for its green and environmental practices, the Center was awarded with the Leadership in Energy & Environmental Design (LEED) Silver Certification from the U.S. Green Building Council. Many events have taken place at the Convention Center in its almost 29 years of events. Fun Facts: the San Diego Comic Con has taken place at the Convention Center every year since its open. The on-air gameshow Wheel of Fortune taped shows in the Convention Center in 1997, 2003, and 2007.

We're thrilled that The Special Event (TSE) 2019 will be held at the San Diego Convention Center the weekend of January 8-10, 2019. This event is one of the most educational and attended conferences for the live events industry. At this show, attendees can connect with over 4,000 event planners and professionals and learn from over 200 speakers. Proudly, Innovative Entertainment's Peggy Jewell is the show's 2019 Ambassador and Nicole Bernardi is producing the Opening Night Event! This show is the perfect place to learn about the best local, national, and international trends in the event and meetings industry. Make connections and start 2019 off right by attending TSE at the San Diego Convention Center: click this link for more information.
If you're looking for your next west coast or California event venue, look no further than the beautiful San Diego Convention Center. Innovative Entertainment can help in planning your one-of-a-kind event. We have provided entertainment and speakers for events in the past and recurring events at the San Diego Convention Center. With our knowledge of their event spaces, technology, and facility altogether, we can provide you with the best in entertainment, production and creative for your next conference, trade show, meeting or special event. Connect with our Innovative Entertainment team to start planning your event today.