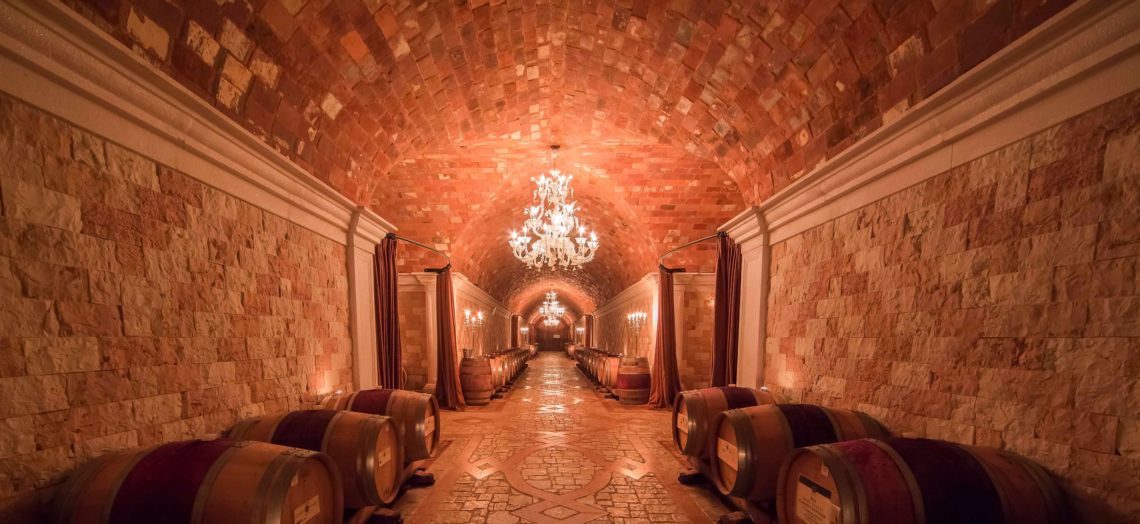 Down St. Helena Highway in Napa Valley sits Piazza Del Dotto Winery & Caves, surrounded by 8.5 acres of vineyards. Opened in 2017, the latest offering of the Del Dotto family of vineyards is housed in a cheery yellow barchessa, or Italian barn. Do not let this dissuade you from believing this to be a most luxurious venue. The inside is adorned with imported Italian paintings, furnishings, and a grand chandelier. The cave is lined with marble and houses barrels of wine along its walls, including two marble barrels created from Carrera stone in Italy. Another impressive chandelier hangs from the ceiling in the star of the cave; an exclusive tasting room.
Back above ground, there are tasting rooms inside and out, where you are treated to fine pairings of wine and small bites from the Zagat-rated kitchen. Food ranges from an array of cheeses, to Poppers (small bites), to a full pizza cooked in an outdoor pizza oven. The wine list is extensive and includes chardonnay, sauvignon blanc, pinot noir, syrah, cabernet sauvignon, cabernet franc, merlot, and sangiovese. The piazza itself is full of old Italian charm, with 17th century stone fountains, marble statues and 150-year old olive trees.
Whether it be a standard bar tasting or the full Cave Experience & Barrel Tasting, there is an experience for everyone at this beautiful vineyard. Piazza Del Dotto Winery & Caves proves to be a tasteful and elegant venue for any event.
When speaking of vineyards, a perfect pairing is a must, and Innovative Entertainment provides just that. Whether you're planning a corporate, social, or private event, we can provide you with the ideal entertainment for your event (in a winery or not). From musicians to comedians, keynote speakers to custom stage performances, Innovative Entertainment makes events memorable. Click here to connect with us and let's start planning!