Here at Innovative Entertainment we travel. A LOT. In any given week, we have employees all over the globe.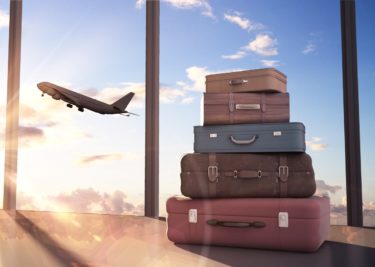 Traveling by plane can be tedious. Not only do you have to sit for hours next to someone you do not know, you have to go through a huge amount of hassle before you even board the plane. However, airport time does not have to be the long, stressful experience that it often is. Below are four basic tips for making air travel a breeze.
Dress smart. Think ahead by planning an airport-friendly outfit. Slip-on shoes, pants that don't need a belt, and metal free clothing are the way to go! Clunky jewelry and extra layers (like coats and sweaters) should be avoided. Also, make sure you outfit is comfortable for the flight! We certainly aren't suggesting you wear your pajamas on the plane. Dress comfortable, but appropriate. You never know who you might run into (maybe even that client you have been chasing).
Customize your luggage. We've all had that awkward moment when a total stranger mistakes our luggage for theirs and carts it off just as we were about to grab it. Add a tag or ribbon to your luggage for easy identification. Or, just invest in a really wild-looking suitcase. It's not likely that you'll have anyone walking away with your stuff again!
Bring a power strip. We are not kidding! Although airports are getting smarter when it comes to accessible power, outlets are usually a hot commodity. Become the most popular person around by bringing a power strip so you can charge multiple devices at once and share with the people around you. The alternative would be to make sure your devices are fully charged before going to the airport. But bringing a power strip is way more fun!
Pack an empty water bottle. Don't spend money buying bottles of water everywhere you go. Simply pack an easily accessible, empty water bottle in your carry-on bag and fill it up after you have passed security.  Its ecofriendly and will save you money ($7 bottle of water at the airport, no thanks!)
Make sure to follow along on our Facebook page to see where in the world we are. Or follow along with Nicole Bernardi on her travels around the world @ourentlife.  We will be updating our blog frequently with our favorite travel advice, so stay tuned!  Your life is about to get better!