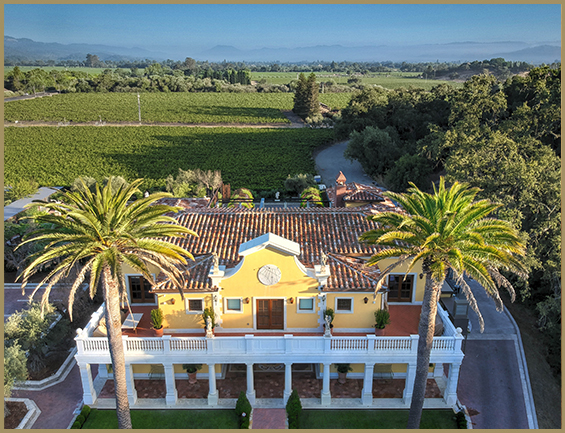 Some might say the Del Dotto family was born to make wine. After all, their winemaking history dates back to the 1400s. The newest of the Del Dotto wineries, Piazza Del Dotto, takes its inspiration from the winery's Tuscan roots.  The newest space, the "barchessa" or barn is hardly a barn. La Barchess is a Italian-inspired, two-story villa. Tasting bars, a lounge, and kitchen make up the main floor. A 1,500-pound chandelier, reminiscent of 18th century Italy, hangs from the open two-story ceiling.
Two purple chandeliers decorate the tasting areas, and a large dining table takes up the rest of the second floor. Outdoor decks overlook the winery's cabernet sauvignon vineyard and vegetable garden. A 17th-century fountain centers the patio seating in the back gardens. Don't be surprised if you run into turkeys, peacocks, pheasants or doves as you stroll the gardens – they are housed in an outdoor barn on the grounds.
No Del Dotto winery would be complete without its wine caves.  The Piazza caves are 8,500 square feet and marble-lined.  The cave is large enough to handle a large group for a barrel tasting, and Del Dotto Wines are among the best.  Fodors considers Del Dotto Wineries one of the five gourmet experiences in Napa Valley.
What better place to hold a corporate event, a fundraiser or special event than at Piazzo Del Dotto. Just be sure the entertainment is as spectacular as the venue. Innovative Entertainment has been providing spectacular entertainment for events since 1983 in venues around the world.  No matter what you're looking for – musicians, stage performers or keynote speakers – our roster of talent delivers the perfect entertainment for any size event! Connect with Innovative Entertainment to make your next event unforgettable.