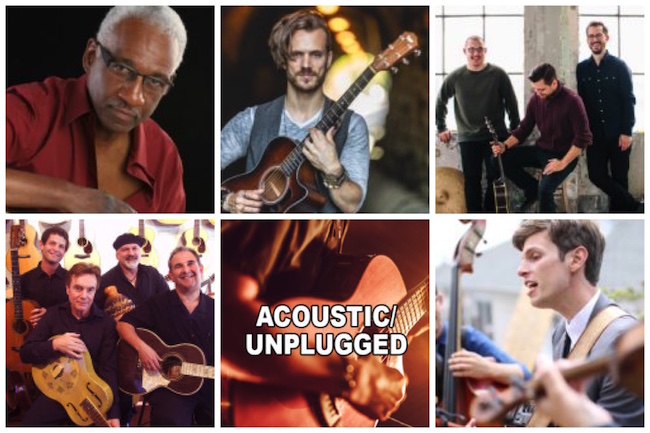 When you want entertainment for your event that is a little more mellow and maybe not as attention-demanding, you should consider booking an acoustic band. Entertainment provided by acoustic bands can be a perfect fit for an event – especially if you're wanting guests to carry on conversations with background music from the band, but also have lively, upbeat songs throughout the event. The soothing vocals and instruments can provide the ideal environment for any event.
What Exactly Does Acoustic Mean
A band that's acoustic essentially means that they do not use electric adjustments and let the acoustic instruments' natural sounds come out. These type of musicians tend to be called "unplugged" because they are not using plugged in, electric instruments.
Acoustic performers can either be a band with many musicians and instruments or just a single guitarist and singer-songwriter. Many acoustic performers are skilled at performing different genres and styles of music. Oftentimes acoustic bands perform today's greatest hits, funk, soul, pop, rock, and/or classics.
What To Consider When Looking for An Acoustic Band
Invest some time in listening to different music styles and bands to ensure that you find the right fit for your event. Make sure you know what type of music each band you're considering plays and sings so that you know what style music you will have played during your event.
Work with entertainment experts that have worked with acoustic talent before. Consider their recommendations, and inquire about seeing the perform play live or by video. Expert recommendations are important as you will know that the talent has been vetted and everyone knows what to expect during the event's performance.
Make sure to ask your entertainment expert any questions pertaining to the event, the venue, and the band's style. Ask what music they can and will play, figure out the space they will need and what the event venue will provide, talk about pricing and contracts, and any technical rider needs (i.e. staging, lighting, etc.).
Innovative Entertainment has over 30 years of experience at being in the 'entertainment expert' role. Our team have years of expertise in working with both clients and bands to create spectacular events that are also successfully planned. We book a roster of diverse acoustic bands for any event. Next time you consider booking an acoustic band let Innovative Entertainment know – we have unique ideas and some of the best talent to bring to your next event!