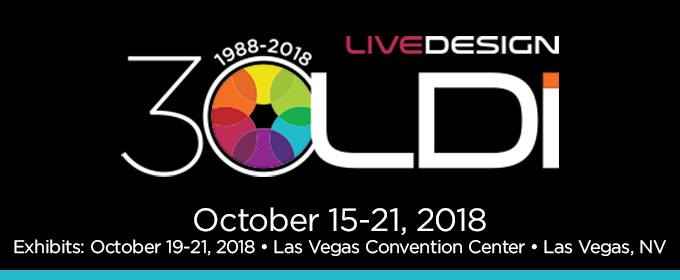 For three decades, Live Design International, or LDI, has been combining tech, design, and production into an interactive, live experience for people from all over the world. This year, LDI 2018 will be hosted in Las Vegas and is committed to taking the experience up a notch – adding new opportunities, innovation, and creativity at every turn.
What You Need to Know About LDI 2018
More than 14,000 attendees from more than 80 countries converge on LDI each year, as a leading event for professionals in the live design industry. This massive community of production professionals come from all corners of the industry, like concerts and clubs, houses of worship, corporate events, festivals, and more.
LDI members, you have access to a wide array of opportunities. Conference sessions, exhibits, live shows, and special events, will give members opportunities to learn new things, refresh current knowledge, boost creativity, and see some of the latest and most innovative gear in action.
Exhibits
The possibilities are endless with three-days of exhibits at LDI 2018. More than 350 companies will be exhibiting the latest in their industry niche, allowing attendees to see live demos of products and discuss real information face-to-face with industry leaders. Not only will  the Exhibit Hall at the Las Vegas Convention Center be a great place for networking opportunities, but attendees will get sneak peek looks at products and services in special effects, staging, software/automation, projection/video, lighting, soft goods, audio and more.
Conference and Training Sessions
Networking isn't the only thing provided by LDI 2018. Professionals can use this event as an opportunity to learn and grow within the industry. The LDInnovation Conference consists of three full days that provide members and attendees with topics on the essential issues in the industry, tips and techniques, and more. No matter where you fall within the design industry, there's a conference session for you.
LDI 2018 will provide professional training that uses hands-on learning to enhance the knowledge of any live design professional. There are more than 100 learning sessions to choose from, where attendees can learn about new and innovative methods, products, and more from top industry leaders.
Sponsors
Industry leaders like AG Light and Sound, Apex, Stageline, West View Productions, Live Design, and Stage Directions are sponsoring LDI 2018; ensuring high-quality event services and entertainment.
LDI 2018: When and Where
LDI 2018 is easy to attend, and has a variety of options for registration. This year's attendees can celebrate 30 years of live design at the Las Vegas Convention Center in Las Vegas, Nevada. This extensive show begins October 15th, 2018 and runs through the 21st of the month. Special events, exhibits, and conferences are broken down into the following dates:
October 15-20: LDInstitute and LDIntensives
October 18-20: LDInnovation Conference
October 19-20: LDI: Live Outside
October 19-21: Exhibit Hall


---

Innovative Entertainment provides dynamic speakers and unforgettable entertainment that ties into the live design and creative industry and many other industry conferences and corporate presentations. Connect with us to begin planning your upcoming event.