Happy Birthday Charlie Daniels!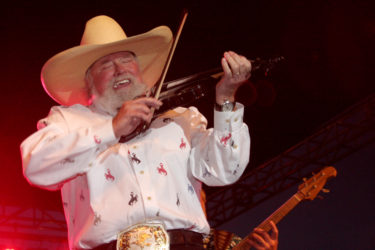 Innovative Entertainment would like to take a moment to wish Charlie Daniels a very Happy Birthday as today, October 28th, 2017 is Charlie's 80th birthday! Charlie and the Charlie Daniels Band will be celebrating with a Voluntary Jam to celebrate his 80th birthday on November 30th. The bash will be taking place at the Bridgestone Arena in Nashville. Many big-name acts have already started announcing that they will be playing the show including 3 Doors Down, Chris Stapleton, Kid Rock, and Travis Tritt to name a few.
Charlie Daniels is an American music icon and few have left a bigger mark on the music scene than Charlie Daniels has to date. Charlie had songs that ranged from Dove Award-winning gospel tracks to more genre-defying Southern Rock songs that have all left an unmistakable mark on the American music scene. And who could ever forget the classic hit, "Devil Went Down to Georgia".
Charlie was raised in North Carolina where he played in a bluegrass band called the Misty Mountain Boys. Soon after Charlie moved to Nashville in 1967 and began to work as a singer, songwriter, and producer delivering quality music. Charlie also played on any sort of show he could get into as he tried to grow his own music career on the side of also making a full-time living as a producer.
While Charlie has spent over 50+ years in the music business it's what he continues to love to do so he will continue doing so as long as it's feasible for him. It's a labor of love Charlie continues to participate in. Charlie loves what he does and thanks, God every day he gets to do it.
Charlie is still a "road warrior" meaning that he does tours while also mentoring younger musicians to help them grow in their careers and music production. At Innovative Entertainment, we have had the pleasure to book Charlie Daniels for several corporate performances over the year. Director of Sales, Eddie Kertel, had this to say about his experiences with the Charlie Daniels Band "Such and amazing experience to work with an iconic artist like Charlie Daniels. The crowd always loves them and fiddle is on FIRE!".  Happy birthday Charlie, we hope to work with you again soon!