With over 30 years of theatrical experience, including 20 years in the events industry with Associated Entertainment Consultants and Innovative Entertainment, IE's Director of Sales EDDIE KERTEL brings a 'director's eye' to every event no matter how large or small. Over the span of his career Eddie has booked and /or produced over 150 headliners for both Fortune 500 companies as well as public events around the world. Eddie is an integral part of the Innovative Entertainment team. Enjoy getting to know more about Eddie as he opens up about his diverse career and love for IE in this recent interview!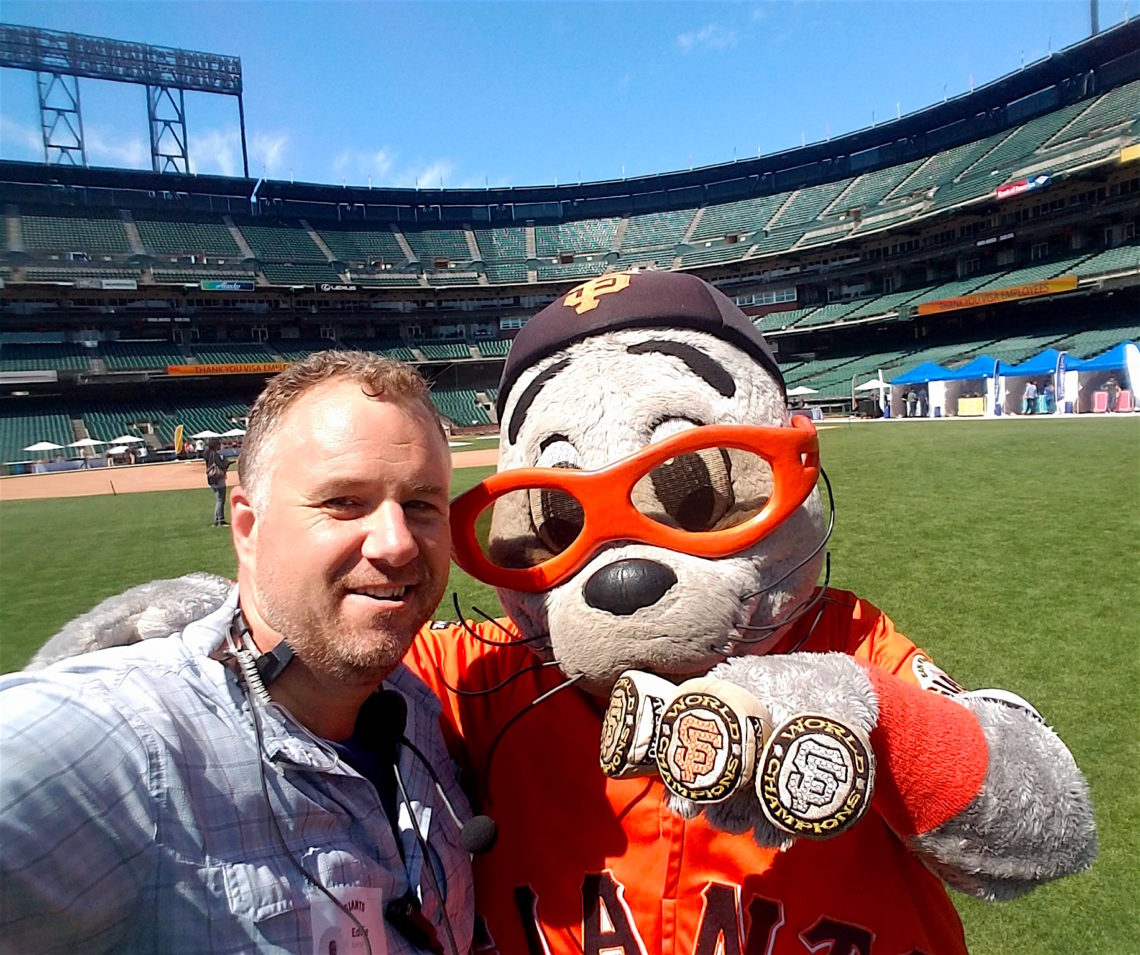 ---
IE:
Hi Eddie, thanks for taking a few minutes to chat so that our readers can get to know more about you! Share with us, where are you originally from?
EDDIE:
I'm born and raised in San Mateo County. I've called the San Mateo/Foster City area home for (almost) 52 years.
IE:
What was the education background that led you to the events and entertainment industry?
EDDIE:
Just life…I moved out when I was 18 and did some junior college. I really entered the work force to pay bills and to have time to do what I enjoy. I was very much a theater and a sports guy – they're really the same to me. My life education was one of teamwork and performance. Coaching/playing sports and directing/acting in plays and musicals.
IE:
Before joining Innovative Entertainment as Director of Sales were you working in a different industry?
EDDIE:
I have always had lots of jobs but interestingly they all tie in:
I worked at a pizza Parlor all through high school.
Ran teen programs for the recreation department.
Directed Musicals.
Worked as an Au Pair.
Was a bellman at the Marriott.
Was the athletics director at the Pacific Athletic Club.
IE:
If you weren't doing what you are now in your career, what would you choose to be doing?
EDDIE:
I would love to do radio or sports announcing.
IE:
As Director of Sales, what do you like best about selling?
EDDIE:
The people in the industry are fun from the client side to the artist side, so its generally a great group to chat with. Learning about your client to help them get what they need is always fascinating.
IE:
What do you enjoy most about working at Innovative Entertainment?
EDDIE:
We are all very diverse in our likes and dislikes, and all very savvy and knowledgeable. At heart I think all of us like to have fun…so it's a great place to joke and kid around, yet it's grounded in professionalism. I also enjoy how as a team we're always wanting to produce at the highest level for the client and the talent. It says a lot about a company where you can take a multi-million dollar client and have any one of the 15 + people be responsible for them and do a great job. We have incredible depth in all spots (sports analogy) not to mention our extended vendors that we rely upon.
IE:
Congratulations on this year being your 20th year in the industry! For newcomers to the events and entertainment industry, what is one piece of advice you'd share with them?
EDDIE:
Don't be afraid to listen and ask questions. Events have so many dynamics out of your control that can have a great effect on your event. So understanding the overall flow as well as the clients desired takeaways are key.
IE:
We'd love to know, what has been the most memorable client relationship of your career? And most memorable IE event you've worked on?
EDDIE:
Memorable is a fun word…I have many lifelong friends that I have met from work but also a few that I might never ever see again that I could never forget. It's too hard to pick just one event, but I think that doing some of the national acts for incentive trips in Hawaii are always really rewarding because of the combination of talent level of the performers as well as the staff teams that put together the events. Its an incredible feeling of comradery to pull off those events that are the culmination of months of work.
IE:
Outside of working, what is something that you think people would be surprised to learn about you?
EDDIE:
Maybe not surprised, but I love to cook. About 15 years ago I almost switched careers and bought a house in Belmont with a retail deli downstairs. At the time it was just a little too expensive to make the numbers work or I would have been a restaurant owner.
IE:
One interesting thing we've heard is that you're the 'voice of the Hillsdale High School Knights'…tell us about how that came about and why you enjoy that role.
EDDIE:
When my son was a freshman at Hillsdale he started playing football and I of course went to the games and there was no announcer, so I volunteered. Now I'm in my Seventh year and we treat the games much like you would at a college or professional level. I also announce the basketball games which are fun in different ways and a great atmosphere. You can't beat the purity of good high school sports. But really I think I just like hearing my voice with reverb! 😊
IE:
When traveling, where are some of your favorite places to visit?
EDDIE:
Love Palm Springs and Disneyland. For work you can't beat Maui or Kona or Monte Carlo.
IE:
When not working, what do you enjoy doing?
EDDIE:
Love sports, and love hanging with friends and family. Would love to golf more. I also enjoy cooking and baking.
IE:
Thanks Eddie for such a great time today answering all of our questions! Is there anything else you'd like to share?
EDDIE:
Just how appreciative I am of my wife Anna and my son Eli who have always supported me – also of Innovative Entertainment which truly allows me the freedom to succeed!