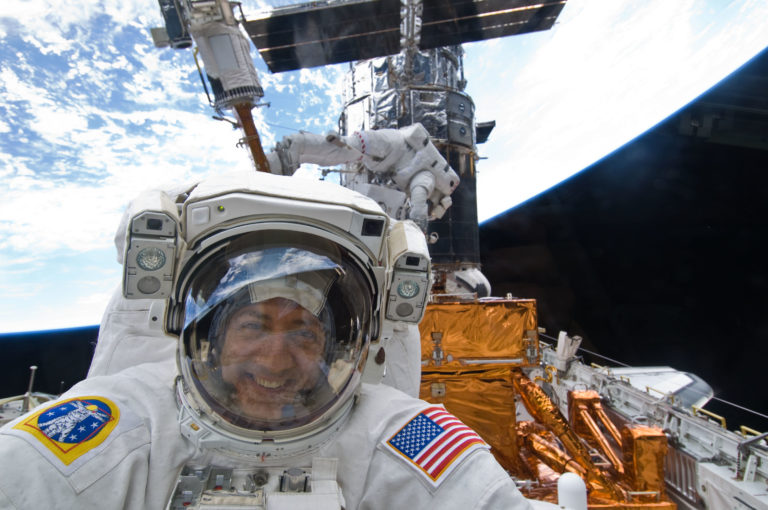 Passionate. Engaging. Spectacular. Just a few of the superlatives offered by corporate clients about former NASA astronaut, author and inspirational speaker Mike Massimino.
Audiences are quick to recognize Massimino—now a professor at Columbia University—from his many television appearances. Mike has guested on the Today Show, CNN, Neil deGrasse Tyson's "Star Talk," and Late Night with David Letterman, and even has a recurring role as himself on CBS's "The Big Bang Theory." Mike's book, Spaceman: An Astronaut's Unlikely Journey to Unlock the Secrets of the Universe, is a New York Times bestseller.
After two missions to the Hubble telescope and four spacewalks, you can bet that Massimino has some remarkable stories to tell. With an engaging combination of enthusiasm, candor and wit, this down-to-earth space traveler entertains and enthralls his listeners with tales of his NASA career. But what audiences find most compelling are the enduring lessons of teamwork, dedication and leadership drawn from Mike's experiences.
Massimino's presentation will engage your attendees with these powerful themes:
Motivation and Achievement
Massimino shares personal stories of the perseverance that enabled "a working-class kid with a fear of heights" to achieve his childhood dream of becoming an astronaut. Rejected three times by NASA, the clear message is "never give up."
Courage, Crisis Management, Overcoming Obstacles and Challenges
Massimino conveys the challenges of repairing the Hubble telescope and the tragedy of losing friends in the Challenger disaster.
Inspiring Lives, Personal Growth
Mike's stories of the hard work and determination in training for the NASA program highlight the importance of having passion for your work.
Teamwork and Leadership
Massimino's tales focus on building a team to meet the challenges of space flight.
Science and Adventure
Massimino shares the awesome beauty and wonder of space and offers his perspectives on the space program.
Innovative Entertainment offers you the opportunity to book honored NASA astronaut Michael Massimino for your next event. With a large roster of talented, engaging and unique speakers we also offer the possibility to book other incredibly accomplished experts in their fields. Contact us, let's start planning your next event.