This year marks Outside Lands' 10th Anniversary which took place inside Golden Gate Park's Polo Field.
If you couldn't get a ticket, or didn't have the chutzpah to jump the fence this year (not recommended), we have some highlights from Friday, Saturday, and Sunday's stages.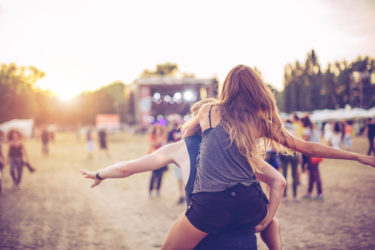 TRANSPORTATION
It's always a parking nightmare when 200,000 people are trying to get somewhere simultaneously, but luckily Outside Lands partnered with MUNI  offering supplemental transportation near the N Judah lines. Each night there was a 5X Fulton (which was basically a shuttle) filled with insane concert goers. This was the best bus to ride. It's like riding Muni on St. Patricks Day minus the color green. There was also a designated Uber/Lyft pickup spot so drivers weren't wandering around GGP at night.
FOOD
In California, there isn't a better place to stuff your face than the Bay. This year Outside Lands has outdone themselves with including some of the best Restaurants including crowd favorite 4505 Meats , Roy Choi even hosted the event "Feast in the Trees" with Superstar Sommolier Peter Eastlake.
FRIDAY
Friday's headliner was The Gorillaz , Damon Albarn's virtual band started in 1998. The band performed a 21 song set peppered with feature after feature including Swedish singer-songwriter Yukimi Nagano of Little Dragon who hasn't performed live since 2010.
The played their hits "10/2000" which he started over because Damon forgot the lyrics, "Feel Good Inc.", "Clint Eastwood", "On Melancholy Hill", plus a bunch more. The projections were killer too.
Our few of our other favorite performances also include Rag'N'Bone Man (we love his sultry bluesy voice) and Sleigh bells.
SATURDAY
Playing over two hours with a three-song encore, it was good to see Metallica back at this Outside Lands (They headlined back in 2012 when the world was supposed to end). The show was dynamic, hardcore, and mid-show they brought a little guy from the audience to switch places with Lars. This cute kid played drums just long enough for Lars to get a drink of water. They also did this in Detroit so who knows, maybe they are looking for a new band member. This was their last US show before they go to Canada.
SUNDAY
What a perfect way to close out a Sunday show: with the gods of rock? As you would expect watching the Who in SF's Golden Gate Park is epic and keeping the audience grounded with humor Pete Townshend quipped "We had a thing called a radio… anyways, these songs were the ones that were most played on the radio" With a whopping 22 song lineup, The Who rocked!!!
COMEDY
The Barbary Stage, located in the north eastern area of the festival, hosted comedians in tents telling jokes. Curated by SF SKETCHFEST shows included comedians from stage (Amy Miller, Irene Tu, ) television and movies (Roy Wood Jr., Tiffany Haddish, Nikki Glaser) and internet (Lovett of Leave it, Epic Rap Battles) it had something for everyone. If you're into watching comedy in Golden Gate Park check out Comedy Day.
Can't wait for next year!!!