The sun is scorching, baseball season is in full swing, and the beach is calling your name, which means it is summer, which means Independence Day is just around the corner. The Fourth of July is one of those holidays that likes to sneak up on us. One minute, it is Memorial Day, then you turn around and it's June 30th! If you haven't made plans for Independence Day yet, fear not – there is plenty going on in the San Francisco Bay, the least of which is not our beautiful, synced fireworks display over the bay. For a whole day of fun, check out these activities going down on July 4, 2017!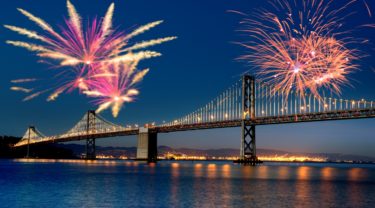 1. Fireworks
It really isn't Independence Day without hearing the "bombs" burst in air, and San Francisco has arguably one of the best displays in the country. For optimum viewing, situate yourself near Pier 39 or the Municipal Pier around 9:30 (or sunset). Because this display is so popular, parking and viewing spots fill up fast. Your best bet is to arrive early, park far away, and take public transportation right up to the pier. 
2. Baseball
If you can show me anything more American than eating a hotdog at a baseball game on the Fourth of July, I'll be a bald eagle! Which is why, your very own Oakland A's will be matched up against the Chicago White Sox at 1:05 on the Fourth. Can't make it the day of? The White Sox are in town the 3rd and the 5th as well. Who says Independence Day can't last a whole week? 
3. Live Music
Warm weather and live music go together like peas and carrots, so bring the whole family to the Alameda South Shore Center at 3 pm on the 4th. Groove to live music performed by Sun Kings, pet the cutest animals you ever did see at the petting zoo, and get all dolled up at the face painting booth. All ages are welcome! This is one Independence Day block party you won't want to miss! 
Whether you are a longtime resident, or just in town visiting, celebrating Independence Day in San Francisco is an experience to remember. And if you need help planning your Fourth of July celebration, don't hesitate to contact us at Innovative Entertainment today!