With the end of the year right around the corner, now is the time to plan a holiday party that will acknowledge your team and clients for contributing to a great year! Whether you're planning an intimate gathering or a company-wide corporate event, Innovative Entertainment recommendations for holiday party entertainment will leave a lasting impression on all your guests. This year we want to help you bring the party back to life!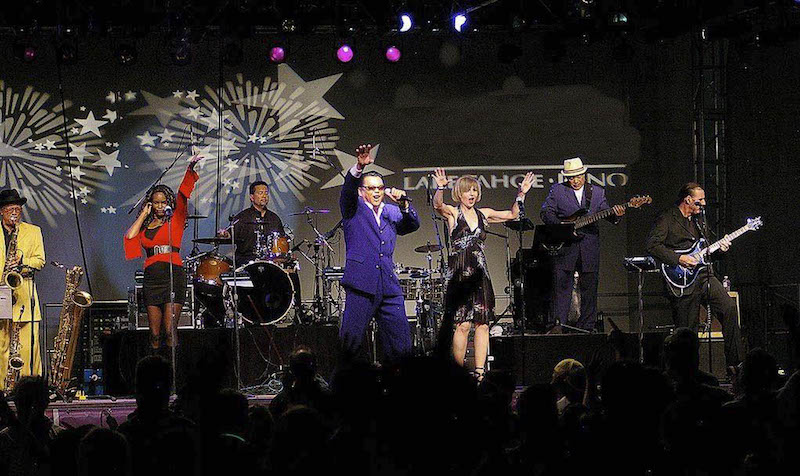 LIVE BANDS
Perfect for entertaining party guests of 150 or more, a live band is the solution for getting your crowd up and dancing all night! We work with only the best professional bands with a variety of musical styles. Our team loves collaborating with clients to find the band that fits their event perfectly. With live band entertainment you have the ability to keep your guests engaged by moving them into the holiday spirit and onto the dance floor!
Alter Ego
Alter Ego is known for throwing down a show that's designed to interact with the audience and keep them out on the dance floor. And as a bonus, for those guests who don't wish to dance, the show is uniquely visual and entertaining to watch. As part of their non-stop all dance repertoire they perform the best of 70's disco, 80's rock, 90's Pop, and Top 40 of today – as well as a mix of holiday music too. Guests will experience their contagious energy from the very first down beat 'til the last partygoer leaves the floor!
Big City Revue
Big City Revue epitomizes versatility, musicianship, and a love for the music they play. Performing a non-stop, soul-injected, musical party extravaganza – this band continually draws raves for their holiday party services. With four energetic vocalists, they are backed by a dynamic rhythm section, and an electrifying brass segment, that get the dance floor moving with a versatile mix of holiday music, 60's Motown, rhythm & blues, 70's disco hits, 80's and 90's pop, current Top-40 and even Salsa.
Red Hot Band
Best known for raising the energy at parties with the most current Top 40 Hits, paired with clever arrangements and stylized choreography – the Red Hot Band is currently one of the country's hottest bands. What sets them apart from others is their twists and new interpretations of favorite tunes, plus energy that cannot be compared. Holiday party audiences from all over have appreciated their dynamic performances that are fully customizable for the needs of any type of event or any event theme.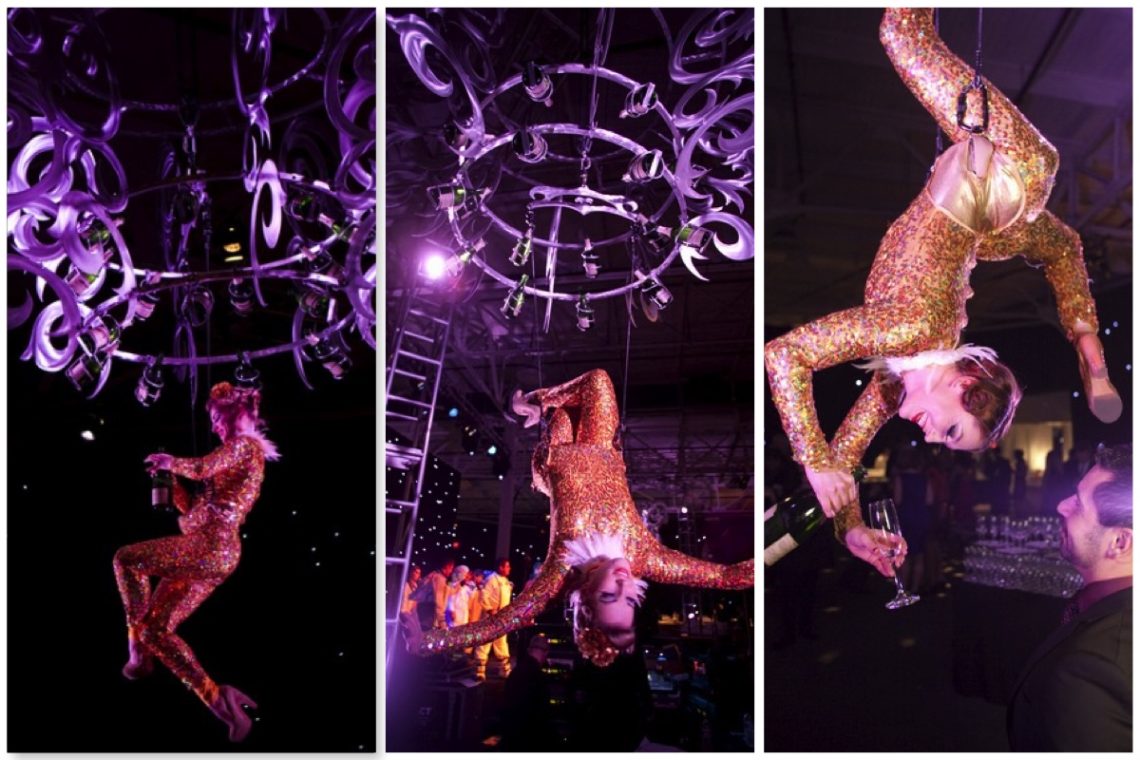 CULINARY PERFORMERS
Holiday parties get even more exciting when guests experience professional performers as fill the role of food or beverage servers within the party room. Whether offering partygoers a glass of sparkling champagne upon arrival or enticing them with delectable desserts as the party comes to an end, culinary performers combine one's love for entertainment and food to offer an experience that guests won't soon forget!

Champagne Aerialist
Aerialist performers have a beautiful way of stealing attention when performing during a party. And we've found that beverage service provided by an aerialist has a distinct way of making every guest feel like VIP! Add this unique entertainment to your holiday event as a party starter. Or have the aerialist service performance at a point during the event that you want to highlight…like a group toast to celebrate your great year!
Strolling Table Performers
Strolling table performers, also known as 'living tables', are a magical yet functional way to present hors d'oeuvres, desserts, place cards or party favors during holiday events. This type of performance / catering service creates a great first impression and a festive mood as gliding costumed performers 'inside' tables move throughout the room offering guests beverages or an appetizer. Add this unique element to your holiday party by having the living table offer guests seasonal treats, or better yet, cookies and milk before Santa's big event arrival!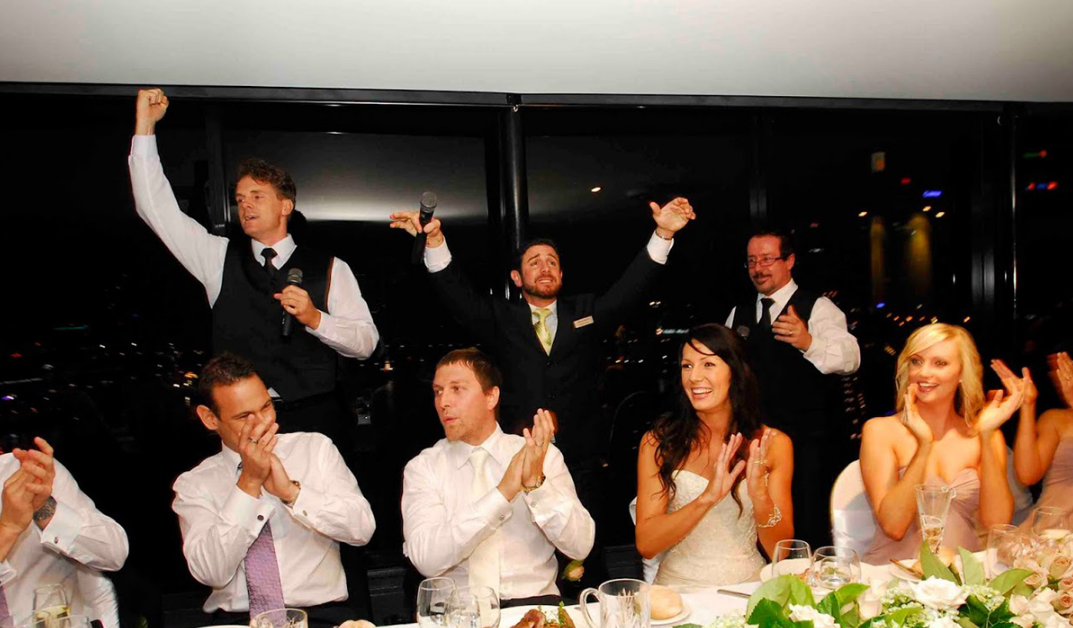 PERFORMANCE ARTISTS
Nothing brings in the magic of the holidays more than clearing the room for a performance once everyone has had delicious food and drink. Whether it be an interactive performance during dinner service or a stage performance before dessert, our team has loads of experience matching just the right performance artists with holiday gatherings that are the hit of the party!
Three Waiters
The Three Waiters is the world's most successful singing waiters show with over 11,000 performances throughout 85 countries! The group is THE original act of its kind in the United States, with an award-winning show that continues to surprise and captivate unsuspecting audiences across the globe as three charming performers pose as "real" waiters before taking center stage for a dynamic, sophisticated, and hilarious presentation a la The Three Tenors. This performance art is an intricately designed hoax, wound tightly in a carefully scripted show featuring the element of surprise, portrayed through delightful and charismatic characters. It's simply perfect entertainment for adding just a little more holiday 'magic' to your holiday party event!
Eclipse
Bring a performance that's state-of-the-art to your holiday party this year with Eclipse. They blend motion graphics with choreographed and synchronized dancers, perfectly demonstrating through live performance the importance of synergy and dynamics within a group of people. This brilliantly choreographed production is perfect for customizing to your holiday or end-of-year celebration. Through acrobatics and dance, both in silhouette and in full reveal- with front and rear projection- a unique, it's an unforgettable experience for our guests!

Steve Silver's Beach Blanket Babylon
With over 40 years of sold-out performances, Beach Blanket Babylon is an internationally acclaimed performance piece. A zany musical spoof of pop culture with extravagant costumes and outrageously huge hats, the show is now available to perform from a one or two song performance up to a fifty-minute production for holiday parties. Whether for a small or large group, this performance and it's performers are a proven success with any crowd.

Let us help bring your holiday party to life this year – click here to connect with our Innovative Entertainment team and we'll get the ideas flowing. Whether you have a vague idea of your party's location or theme, or a specific concept involving ambitious execution, our team is knowledgeable with a wide-range of entertainment and entertainer options. Our wish this holiday season is that your holiday celebration is as creative as ever!