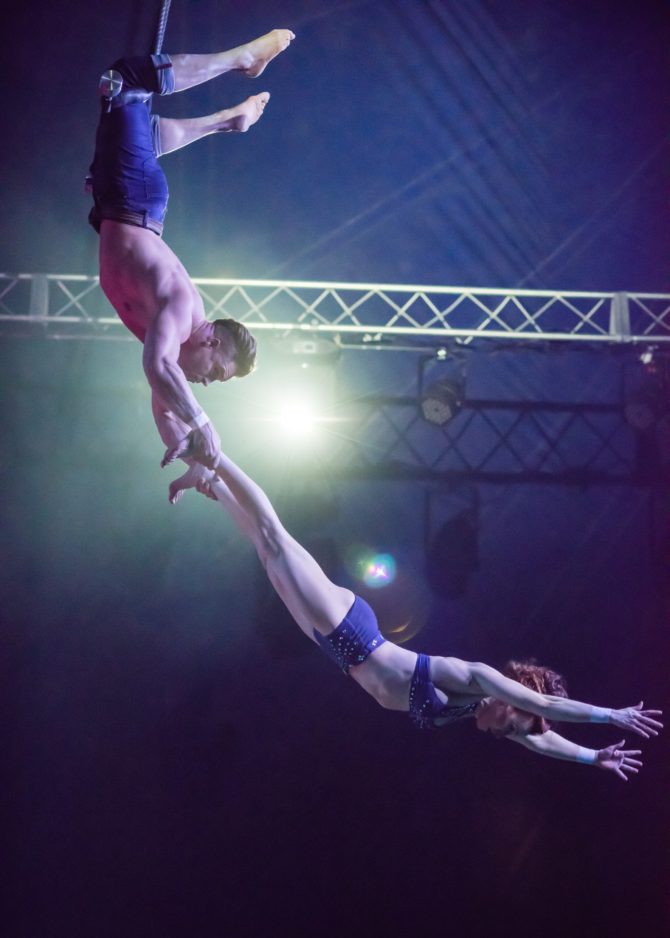 Mary Wolfe-Nielsen, and Tyce Nielsen, aka Duo Transcend, are married performers from Salt Lake City, Utah, who specialize in Duo Trapeze and Duo Roller Skating, aerial silk, tramp wall, diving, and acting.
Mary and Tyce perform edge-of-your-seat, thrilling acrobatic trapeze moves up in the air, and high above the audience. This electrifying act will leave hearts racing from their death-defying spins and lifts. Tyce comes from a background of sports and dare devil high-diving from such heights as 80 feet into a small 8-foot tank. Mary was a professional ballerina and aerial acrobat.
Together they share a love for adrenaline and fitness. They got married and dedicated their time to creating an act that would allow them to travel the world together.
Duo Transcend has performed for audiences all over the world with such productions as:
– Cirque Du Soleil
– MTV'S TV show Amazingness
– The World Expo
– Das Supertalent (Germany's Got Talent)
– The Great American Variety Show
– Cirque Adrenaline
Clear standouts from America's Got Talent Season 13, Duo Transcend captured the hearts of all of America. They have performed for Cirque du Soleil, done halftime events for the LA Lakers and the Houston Rockets, and also appeared on MTV's show Amazingness.
MORE INFORMATION
Back to Talent Category