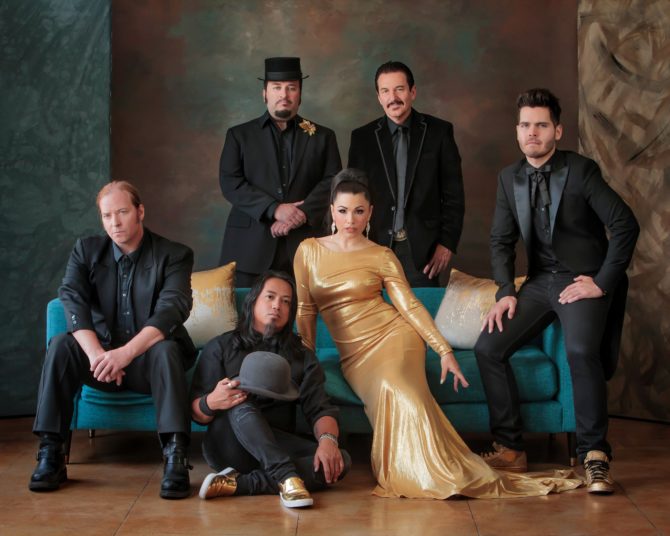 TOMASINA reinvents classic rock anthems and today's hits with a fierce female point of view. Fronted by vocal powerhouse Tomasina who lights up the stage with a million watt charisma and a voice like a diamond drill. The TOMASINA band excites from the moment they take the stage to the very last note of the encore. The TOMASINA band was formed in 2008 when lead singer Tomasina Abate was asked to play the iconic Disneyland Tomorrowland Terrace Stage. There was such high demand by loyal fans for TOMASINA that they were booked on that famous stage that rises out of the ground every weekend by 2015. TOMASINA band members have played with Survivor, Shania Twain, Air Supply, Wings, Mad T Party at Disney California Adventure, Post Modern Jukebox, Zeppelin U.S.A, The Fab Four, Cirque Du Soleil and with the "Dancing with the Stars" band.
Los Angeles native and band leader Tomasina Abate has entertained audiences worldwide opening for Stevie Wonder, Earth, Wind, and Fire; and Shirley Bassie in Monte Carlo; singing back up for Johnny Gil and Japanese superstar, Anri and at Tokyo Disneyland in Japan; opening for Joan Jett in Los Angeles; and as the featured artist for The 2017 Creative Arts Emmys Governor's Ball. What makes Tomasina unique beyond her versatility — she's a cutting edge rocker one moment, vintage chanteuse the next. She can sing or rap anything — is her authenticity and ability to connect with even the shyest audience. Fierce, fabulous, and endearing, Tomasina is an artist that takes you on an ever ascending musical journey. Beneath the makeup, the glamour, the towering wigs, and outrageous costumes – at the center of TOMASINA – glows immense heart.
With years of experience, the TOMASINA band has an extensive list of songs ranging from classic rock to top 40 hits, 80's new wave, old school 90's hip hop, dance club mixes, elegant jazz standards, power ballads to musical theatre showstoppers. Whether you want a soothing atmosphere, a full on slamming rock concert, to get the crowd up on their feet and moving, or all of the above, TOMASINA can deliver. Specialty numbers can even be arranged with themed costumes and the best, most cutting edge dancers in Los Angeles giving you a custom fit, one of a kind, unforgettable experience that will leave you and your guests feeling inspired and energized and will have them talking about your event for years to come.
MORE INFORMATION
Back to Talent Category