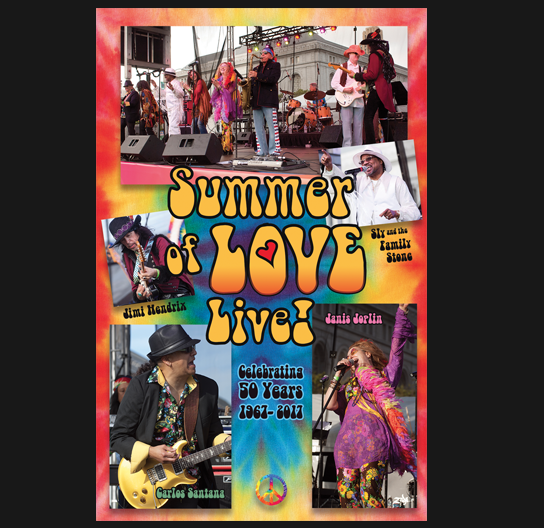 1967 was a historic year for the San Francisco music scene. It was the year that defined a culture and a musical sound that was influenced by the hippies of the Haight Ashbury neighborhood in San Francisco. It was "The Summer of Love." Performers such as Jimi Hendrix, Janis Joplin, Santana, Sly and the Family Stone, and many more launched their careers at that time that rocketed them into fame.
1967 will be remembered for generations to come, and 2017 marks the 50th anniversary of the birth of the sound that so deeply influenced so many of us. Innovative Entertainment is proud to present…."Summer of Love, LIVE!" With a full night of hits of the late 60's, this show includes look and sound-alikes of Jimi Hendrix, Janis Joplin, Carlos Santana, Sly Stone, and Jim Morrison to name a few, along with the music of The Doors, The Rolling Stones, The Beatles, The Turtles, Otis Redding, The Mamas and the Papas, and many more. With as small as six pieces and up to 15 people onstage including up to 6 lead singers, 3 horns, a full rhythm section, the sound is full and authentic. You won't want to sit down when you see this incredible show.
Let us take you on a magic carpet ride back to this historic era. Book your date with "Summer of Love, LIVE!" today.
MORE INFORMATION