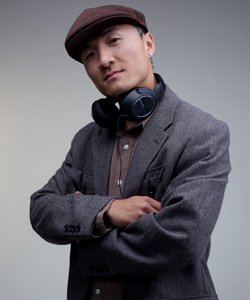 For the past 15 years, DJ Quantum has been refining the art of rocking crowds from The Bay to Beijing at exclusive nightclubs, on the world's largest cruise liners, and at popular music festivals. His ability to read diverse crowds and amplify their energy has earned him the privilege of performing for music industry heavy weights like Russell Simmons, Snoop Dogg, and Ne-Yo, as well as corporate giants such as Oracle, Google, and Intel.
In addition, DJ Quantum has proven to be a corporate asset, carving out a niche as a music producer for corporate marketing campaigns
Intel recently asked DJ Quantum to produce multiple tracks and perform live for their Influential Technology presentation at CES. Using a custom designed transparent Dj Light Table created by Dj Quantum, he was able to seamlessly deliver Intel's marketing objectives that demonstrated the power of influential technology to internationally and culturally diverse crowds that included media, intellectuals, and tech industry trend-setters.
From rocking the crowds at the clubs, to working effectively with corporate project leaders and team members, DJ Quantum has proven to be an invaluable asset to those who choose to work with him.
MORE INFORMATION
Back to Talent Category