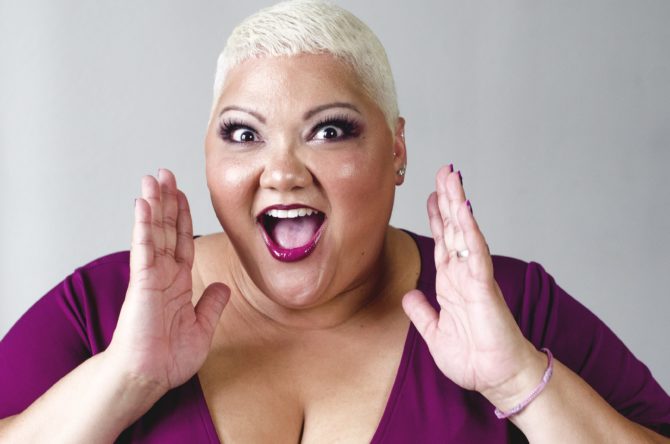 When Christina Wells was born the nurses told her mother that she was a "very entertaining baby". They didn't know the half of it. Wells grew up in Pasadena, Texas, a suburb of Houston. She and her sister were raised by a single mother with many financial hurdles and very few opportunities for Wells to express her talent for performing. But Christina continued to sing anywhere she could, for anyone who would listen. After being voted Best Performer by her Pasadena High School Senior class of 1994, Wells decided to pursue a life-long dream, and she set her sights for the stage. Life had different plans. Turned down time after time for not being the 'right look', rejection of her appearance, but not her talent, began to take its toll.
Christina set her dreams on the shelf and put her energy and love into raising two amazing sons, Ethan and Ty, as a single mother. In the meantime, Wells also obtained her Bachelor of Science in Nursing and became a Registered Nurse. That's right; this is a Diva who sings, acts, dances, AND saves lives!
Wells worked as a Geriatric and Cardiac Registered Nurse for 15 years, a career that brought great fulfillment and joy. But in 2015, Christina decided to dip her toe in the performing waters once again. She began performing at a community theater in Deer Park, Texas. After a stellar performance in the musical Hairspray, a fire that had long lay dormant was once again ignited. Wells would set her sights on achieving her childhood dream of performing. Christina created a live band, The Christina Wells Band, and she began a YouTube show called The Christina and Alli Show, which showcases fun and happy music every Monday. From there, she began to pursue professional shows with grand success. Her stage credits include Sylvia of All Shook Up with Theatre Under The Stars, Charilee in Honky Tonk Angels Holiday Spectacular at Stages Repertory Theatre, Jewel in The Best Little Whorehouse in Texas and Motormouth Maybelle in Hairspray at Art Park Players in Deer Park. Christina was a featured soloist in Super Bowl LIVE! presented by Verizon Wireless and she proudly carries the title of Houston's Pride Superstar for 2016-2017. Wells was also named the F.A.C.E Awards Entertainer of the Year for 2016!
Her dream seemed to be getting closer and closer to reality. She had no idea how close until she took a chance and auditioned for America's Got Talent! Christina made it all the way to the semifinals singing such songs as "I Know Where I've Been", "I Am Changing" and "Natural Woman" by Aretha Franklin in front of 11 million viewers. Christina was also noted to be quite the speaker during her time on national television. News publications such as USA Today, Forbes, People.com, The Houston Chronicle, and Billboard Magazine all featured her as the performer with a message of positivity while also "blowing the roof off of the Dolby Theater". Christina is now back in Houston and she is ready to entertain and inspire the world with her powerhouse voice and her heartfelt message of hope and love.
MORE INFORMATION
Back to Talent Category